Ranch Style Weekend wedding Venue
weekend celebrations covering Farm Weddings, ranch weddings, Barn Weddings, and Unique Northern California Venues all in one
Rustic Wedding Venue, Bay Area
Between three houses and two canvas cottages we can sleep 50 guests in beds with ample room for RVs, tents, and parking. Each wedding includes an exclusive three-night reservation for your friends and family.
Hold your ceremony at the Oak Knoll or in the Eucalyptus Grove and arrive either by horseback or on a hay wagon. There is plenty of space for your reception and dancing around Doc's Bar. We offer a very popular curfew of 2am.
You and your guests are welcome to feed and groom the animals, collect chicken eggs, go horseback riding, learn to rope, practice archery, take a hayride, go skeet and target shooting, explore the creek, hike the vista, walk a pig, snuggle a chicken, play games, BBQ over oak, sit around the campfire, roast s'mores, soak in the stars, and more.
You may choose the vendors of your choice assuming that they are properly insured. We can host a very large group of over 200 guests as well as small intimate parties of any size.
Bar SZ Weddings offered April through October.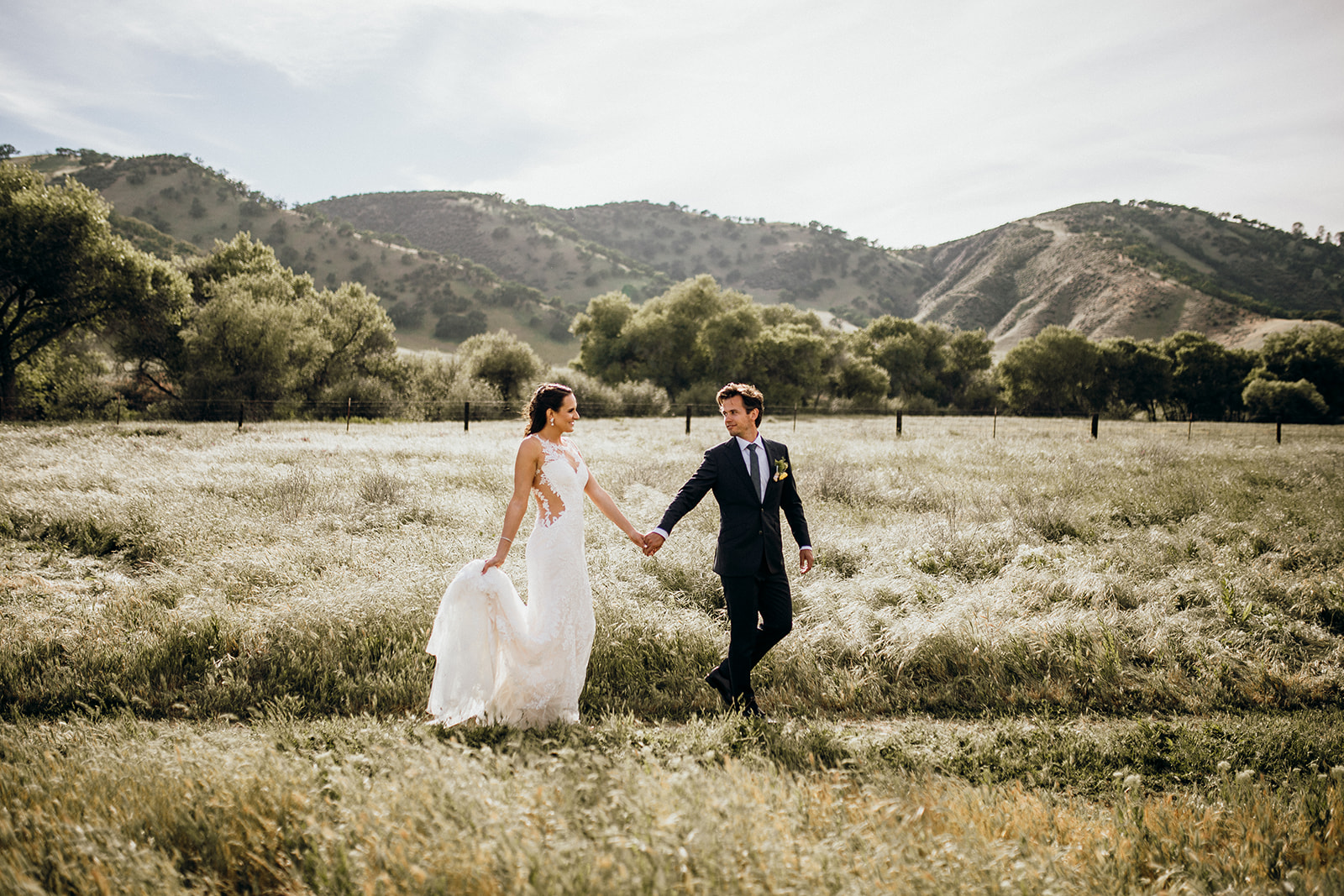 Top Wedding Venue
10 Best Outdoor Wedding Destinations Across The U.S.
Tripping.com gave Bar SZ Ranch the number ONE spot in their national search results. They loved that we are a working ranch with animals and ranch activities being a part of the experience. You aren't just hosting a wedding, you're hosting a destination country experience for all your friends and family. Publication
Bar SZ Featured Photographer
Quin Photo & Film
When documenting my clients I focus on making the photographs look organic. I say this because although it is great to capture beautiful candid moments, they don't always happen without a little direction. I am very passionate about my editing, while many photographers outscource their images for editing, I find it to be a very personal thing that allows me to express myself artisically. Every session is unique and inspiring and it is the very reason that I keep doing what I do. My goal is simply to capture the honesty and rawness of each moment, I think you'll learn a bit about me as well. You'll probably notice that I'm passionate about emotion. Light drives my creativity. I love story telling. I like to tell the story with a unique perspective. I've been called cinematic, dramatic, and moody. I'm pretty sure at least one of those is a compliment, and I promise all of them only refer to my style of photography!!
Thursday Arrival - 3pm
Bride and Groom arrive, invite friends and family OR enjoy alone
Quiet evening, settle into the space and relax around a campfire
Friday
Enjoy a quiet morning
Deliveries arrive
Friends and family arrive to help with setup and decorations
Afternoon activities - horseback riding, shooting, petting zoo
Ceremony rehearsal
BBQ, campfire, lawn games, poker, pool, ping pong, darts
Curfew at 12am
Saturday
Coffee and breakfast as Doc's Bar
Guests arrive throughout the day
Morning activities - horseback riding, shooting, petting zoo
Showers and wedding prep in early afternoon
Ceremony and reception in afternoon and evening
Campfire at Doc's Bar with music, dancing, beer truck
Curfew at 2am
Sunday Checkout - 11am
Farewell breakfast with friends and family
Clean-up decorations and houses
Bay Area Vintage Weddings
♥ In Loving memory of leland lyter ♥